When we were growing up, one of our favorite treats was Smores. But our version of Smores didn't involve graham crackers or chocolate. It was only when I reached my teen years that I realized our Smores weren't really Smores by other standards. They are just as delicious though. And easier too since you don't need a campfire or prongs to melt your marshmallow!
Mom would spread a layer of Saltines (soda crackers) onto a pan, then spread peanut butter on each cracker. From there, she'd top the cracker with a fat marshmallow and another Saltine, then put the whole pan in the oven.
There's no recipe or exact oven temp or cook time, just get the oven hot and watch them. When you see the marshmallow start to droop and the peanut butter start to spread, you'll know it's time to remove them from the oven. OR, if you notice the top Saltine toppling over from the marshmallow's weakness, it's time.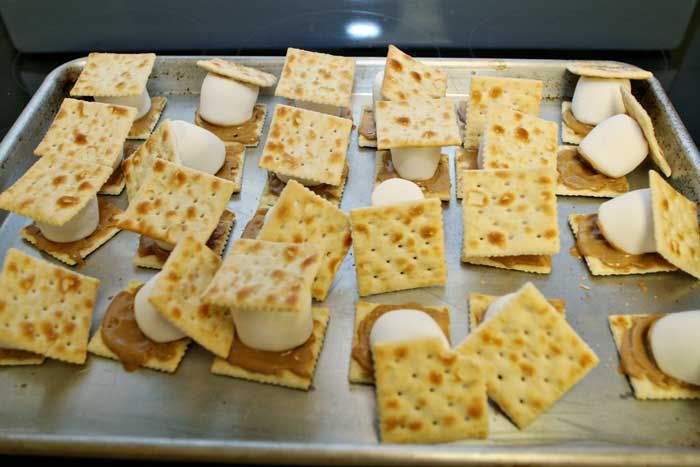 Flatten the tops and smash them down a bit. Work fast because most of the time, little Smore bandits are nearby waiting to steal the goods.
They are yummy. They are delish! They are easy. They are inexpensive. They are the perfect blend of salty, savory and sweet and gooey!