I've been reading too many blogs recently about spray painting furniture.
Southern Hospitality
is one of them. Now, any kind of project like that is the last thing I should be doing right now, but I felt inspired.
We have this pie safe/cupboard piece that Hubs (I'm claiming GA's word since someone recently asked me why I called my husband dh) got from his aunt. He originally thought it was an older piece. He called me from her house and asked if I wanted an old pie safe. My first question was, "Is it in good shape?" When he said yes, I said yes! When I first saw it, I was a little disappointed. I realized right away that it's not old, it's just made in an older style. I decided it was made in the eighties because the inside of it is that lovely shade of country blue. The outside has been painted to thankfully cover that country blue. It isn't really a bad shade of brown, but the paint job is rather sloppy.
See the sloppy paint job, especially around the hinges which are partially still blue? It doesn't really fit my style (whatever that may be...) But, it doesn't bother me that much because it has worked for us. In our old house, I didn't even use it. It was tucked away in the storage shed outside. Since living here, I've used the piece in my laundry room which is actually a walk through room from the backdoor to the rest of the house. I store my canned goods in it since there's not a lot of cabinet space in this house. Being in the laundry room, I also store my detergents and bleach in the bottom. The part I don't like about the piece is the inset of the doors because they scream 1980-something at me with the hearts, swirls and flowers. I hate that!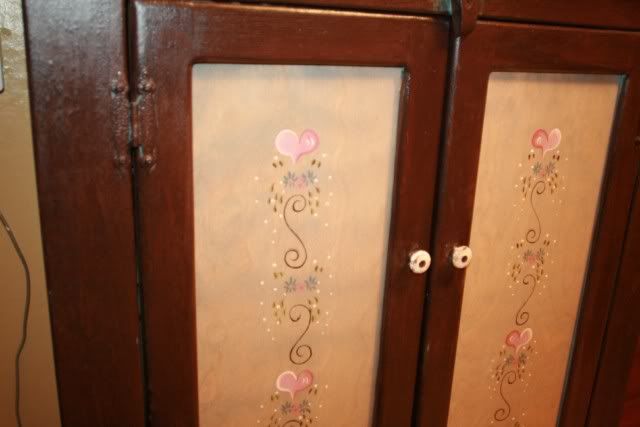 I've threatened for that piece to be my next furniture redo. But, I must not hate hearts and flowers painted on the insets too much because I always tell myself it would be too much work. And then, I chicken out and go blog surfing again. lol
What would you do to this piece? My latest thought was to paint the insets with chalkboard paint and leave the rest as is for now. Or is there some type of paper that I could get to cover the insets? Maybe even fabric? The burlap? Anything?