So, with all the blog reading and thinking about painting furniture, I actually DID something this weekend. As I said in my previous post, the other piece seems like too much work for me at this point in time, so I am putting that on the back burner. I'll decide what to do with it another time (probably a few years from now when we take it out of storage. LOL)
In the meantime, I decided I had to redo something to get my fix. So, this past weekend I went into the basement and pulled out the tv stand. Dh got this thing at a yard sale across the street.
*Sorry, no before photos.*
I think the people may have even given it to him just to get it out of the house. I hated it when he brought it in because it wasn't in the best condition. It needed re-staining or revamping or something. But, I kept putting it off. I almost painted it white at some point last year after reading Cindy's
My Romantic Home
blog, but never got motivated.
I have a problem with motivation. I'm motivationally challenged. I like that term so much better than the label lazy.
It's not a bad table/tv stand. It's solid wood and has a swivel top so you can rotate the tv in any direction. When I'd gripe at DH about his ugly tv stand, he'd just say, "Use it while we're here and toss it when we move." So, that kept me from doing anything to it. Until this weekend... I stayed up too late Friday night reading blogs about spray paint projects. On one of the blogs, the author made a comment about solid wood. I started thinking about how our garage sale tv stand is just that - SOLID WOOD. You don't find solid wood stuff very easily. If we tossed it and then tried to replace it in a few years, we'd end up paying too much money for a crappy piece of particle board furniture.
Saturday afternoon, I took the screws out of it and took it apart, then got to work sanding it. I was just going to sand off the glossy finish, but the boys decided to help me and R sanded one spot until it looked like brand new wood! The rest, we did a pretty good job getting down to a fresh clean slate.
I picked up some Krylon Satin Black spray paint at Walmart on Sunday, then came home and got to work. I gave everything two good coats of black paint. I sanded the edges and roughed up a couple of other spots. Is it crazy to sand, paint and then sand again to expose some of the wood color?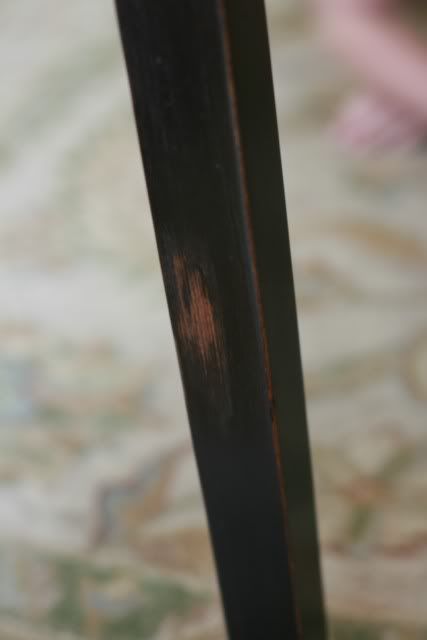 I was going for the distressed look. I wanted it to have a little character and not be just solid black. Then, I took a stain and covered the areas where the wood was showing through, then wiped all the pieces down with Tung Oil. (I used Tung Oil because I had it on hand and didn't want to go spend money on a poly. I wasn't sure if I should use it over paint, but it did give it a nice smooth lustre and didn't interfere too much with the satin finish of the paint.) I left them in the shop to dry overnight. Today, I put the table back together and let it sit out for the day "curing". I hate to bring something freshly painted into the house too soon or the house will smell like paint and you can't get that smell out easily. So, cure it will for a day or so.
That isn't the place it will go, it'll go back to the basement. I just snapped those photos upstairs when I brought it in for good light.
I told DH last night that I'd forgotten how much I like doing stuff like that. I guess it's just something about accomplishing a task. I suppose I've changed a bit over the years though. I used to think everything needed to be a wood finish with stain. When we got a table from mil eleven or so years ago, we silently cursed the three layers of paint that we had to sand and scrap to reveal the beautiful wood underneath. Some things are just better painted - like my newly painted black tv stand.