If all works out as planned, we'll be moving soon. Soon being within the next two months. With that in mind, I've really tried to avoid going to yard sales or buying "stuff" to bring home that will just be put into storage for the time that we're overseas. BUT, who can resist a "bargain"? Plus, around here in this little historic town, there are often some neat treasures to be found.
A few weeks ago, the boys woke one Saturday morning and asked to go yard sale-ing. They are always on the lookout for cool old toys or just cool junk. LOL I swore to myself I wasn't buying anything unless it cost next to nothing or I really could have a purpose for it at some point in time.
We stopped at this sale which basically had nothing. We normally see clothes out front and keep on going. But, I saw a small chest of drawers/stand out there that I thought might have potential. I stopped just to see how much they were asking for it. When I saw a 75cent sticker on it, I had to ask the lady if that was right. She said, "Yes." I said, "I'll take it!" I brought the ugly duckling home because it reminded me so much of a chest I have had in DS#1's room forever storing his underwear and socks. I got it from mil years ago. She's always said that it was handmade by a relative of DH's grandmother's. The two pieces are the same height and built in the exact same manner.
Here are photos to compare them. The only difference is the 75cent piece (left photo - snapped after I'd begun to sand it) has three drawers while our own heritage piece (right photo) has four.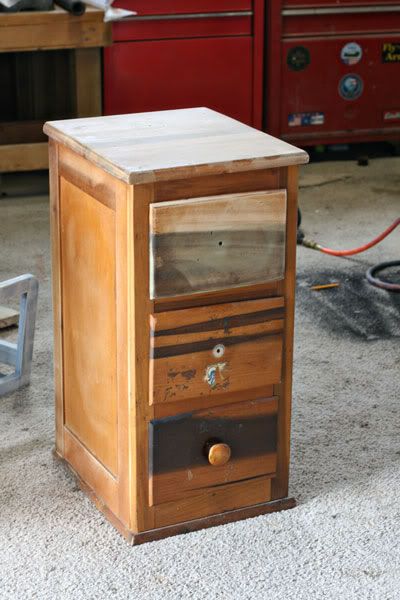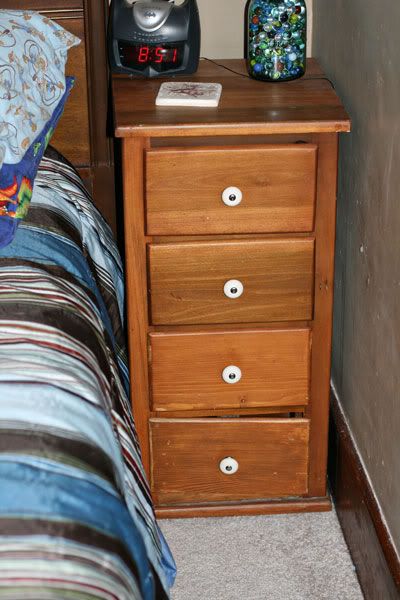 When I got the piece from mil, I was into my wood and no paint phase. So, I stripped numerous coats of hunter green paint off of it and stained it. Then added the regular white porcelian drawer pulls to it. That was probably ten years ago. It's been a great little piece for the bedside in DS#1's room for the purpose mentioned earlier.
You can imagine what I did next to the ugly duckling based on the last few blog entries I've posted. Yep, Krylon's black satin spray paint with some distressing. :)
I chose not to do anything to the drawer pulls for now because it's just going to go into storage in the next month or so. I'll decide at some point in the future what kind of drawer pulls I want. For now, I've got this.
Not too shabby for seventy-five cents and the cost of spray paint. ;)