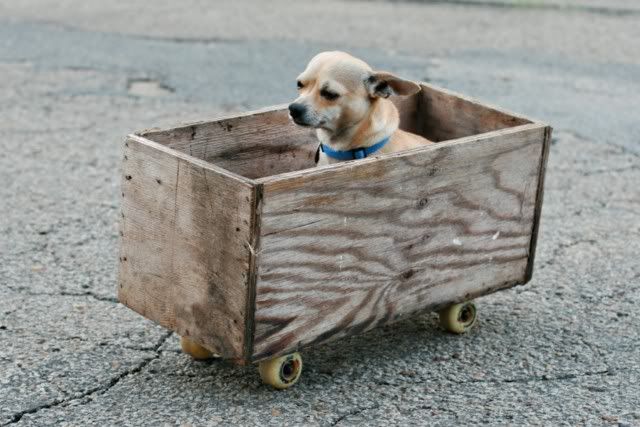 DH has always called Barney, his rider, because the spoiled little thing loves riding. On anything! When the boys ride their go cart, Barney runs out and stands to wait until he's picked up to ride. When DH rides the lawn mower, he does the same thing. Same for rides on the four wheeler when we're at my parents' house. He loves being included and on the go. If he gets to ride in the truck with us somewhere, you'd think he was in heaven just the way he behaves! He is a nut.
Several months ago, R decided he wanted to build a cart with some old skateboard wheels. He and dh got to work using some old scrap wood and came up with the gizmo in the photo above. Then the boys decided it was a perfect cart for Barney. At some point, they tied a rope to it and pulled him along. He just sat there perfectly content to not be walking. Ok, he's a spoiled nut.
But then, wouldn't you know it? Boys decided to be boys and include poor little Barney in some of their stunts. Their favorite stunt is to go across the street (not a heavily traveled street - they play in the street quite often actually.... hmmm....) and up the neighbor's driveway, then skate down it on their boards. On this particular evening, they decided to give Barney more of a joy ride than a leisurely pull. And me, being the sensitive pet mom that I am went and got my camera instead of rescuing him. Don't bash me... it really was cute and he was unharmed through the whole thing!
Neighbor's driveway (I wish she'd close her garage doors so my photos wouldn't be so blah of the inside of her garage. LOL)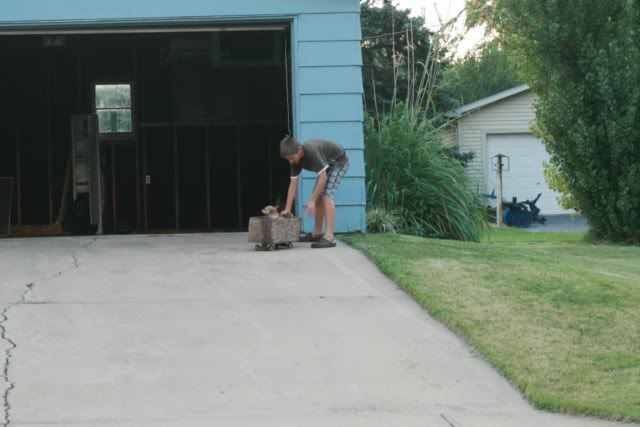 Does he look ready? Can you see the excitement in his face? Ok, you can't see his face, but trust me, it was there. ;)
Ready, set, GO!!!
D ran beside him making sure he didn't turn over or crash...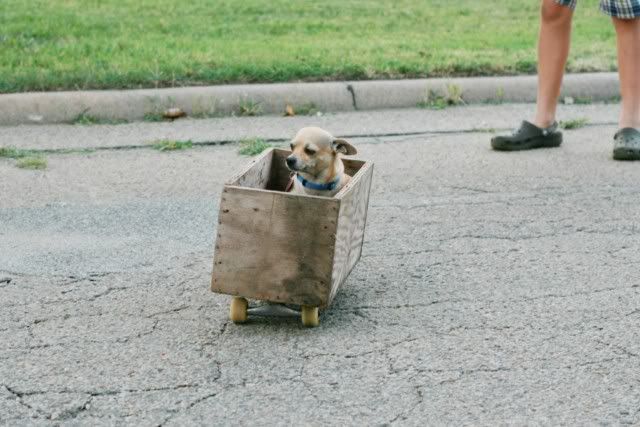 I really expected him to ditch the cart and head for cover when it came to a stop. He didn't though. He just sat there - probably reliving his life flashing before his eyes! LOL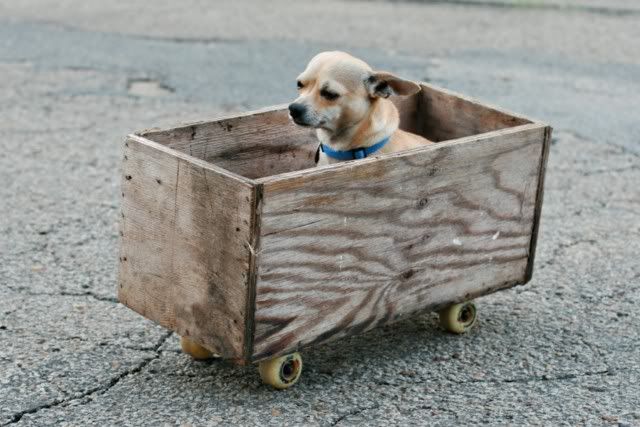 Or maybe he was ready to go again. D took it to mean that and went again!
Are you wondering where Sam was in all of this? Well, he's the brains of the bunch. He was sitting on the sidelines watching and most likely thinking, "What an idiot! Never in a million years would I let them do that to me!"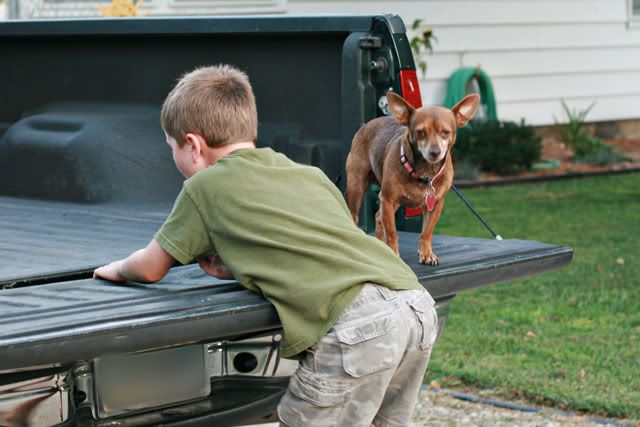 Can you see that in his expression? I can. LOL