I have learned over the years that I can be all of those when the need arises. I've also learned that I can be neither of those if my mood isn't just right. Lately, with all that we've had going on, my moods haven't been "just right" for anything! I'm coming around though. I'm letting go and trying not to worry. I know things will happen (this house will sell) in their own good time and I'm just sitting waiting in the process. I've decided to try my very best not to sit in limbo or work in limbo mode.
So, with that in mind, I bought some plants (mostly mums) at the store recently to decorate a neglected and quite ugly spot on our patio. I didn't put anything out there over the summer because I knew with our trips, the pots wouldn't get watered and the plants would die. What was the point? None. I opted to be neither crafty, frugal or resourceful then, but was smart and didn't waste the time nor money. ;)
When I bought the plants this week, I realized I had no clay pots left for transferring but I decided I wasn't wasting money on any more at this moment in time. I'd just find another way to display the mums in the black pots they came in from the nursery. So, I bought a few different ones.
That pot on the right is off of my front porch and held a pink geranium, a spike and some dangling greenery during the summer. I replaced all but the dangling greenery with that big mum sitting there and plopped it back out on the front porch steps. Then I got to work on disguising the ugly, plastic, black nursery pots. I found a section of burlap in the shop. I almost took a photo of it hanging from the rafters, but I was scared of scaring you. I was also scared of holding my camera in my hand while pulling it down for fear of some spider falling on me and me dropping the camera on the run out the door! LOL That didn't happen though. I found it, pulled it down and then plopped it outside the backdoor while I went in to get the scissors and the rest of my supplies.
When I came out, I saw this. He's so spoiled he thinks it would hurt him to lie on the concrete. *rolleyes*
Much to his dismay, I made him get up so I could have my burlap. My plan was to cut circles to encompass the pots and tie it all together with raffia. This all fits the title of this post (crafty, frugal and resourceful) because it allowed me to use things I already had around the house plus my imagination. :)
So, I plopped down in the grass with my supplies and cut my first square of burlap.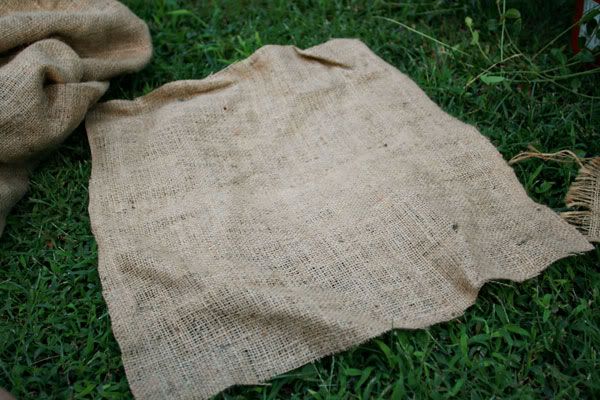 Sam was checking things over to see just what I was doing with the new blanket he'd found. LOL
From there, I took the square and folded it into a cone shape.
I had decided folding a cone and cutting the ends into a curve would be a whole lot easier than trying to cut an even circle.
I was right. It's not a perfect circle, but that's ok, it's sort of evenly round. :)
At this point, I looked up to see where Sam had gone since I was working outside the fenced in yard. I really had no worries. He hadn't gone far.
I sat my flowerpot back in the middle of the circle, then pulled the sides upward and tied it off with a piece of raffia.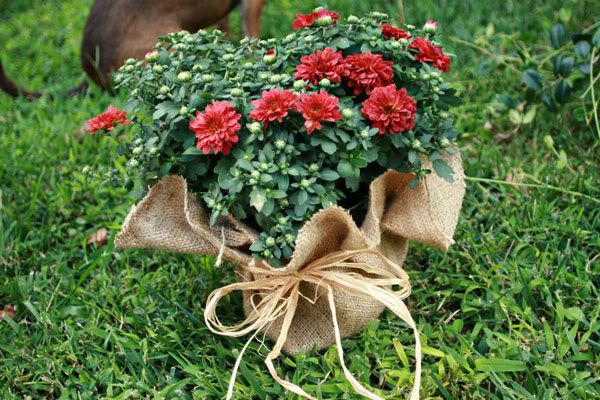 What do you think, Sam? Does it look pretty?
I think he likes the idea! So, I plunged forward and fitted a few more pots with burlap covers. In the meantime, I was also spray painting a little plant stand we'd picked up some time ago at a yard sale. I've come to love black spray paint as of late. ;)
When all was done, I put it all together in this ugly little corner of the patio.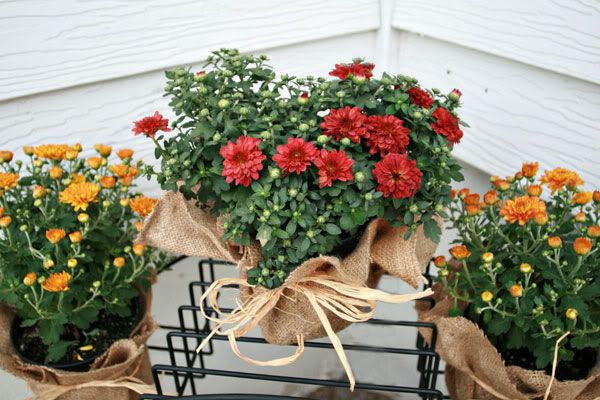 I didn't cover the creeping vine for the bug/car planter because I wasn't sure how that would look, but I may do that later.
What do you think? Simple and easy, all it cost was the price of the plants and a little time that came with a sense of accomplishing something!