I was shopping in Walmart Sunday afternoon when I walked by a three pack of Cracker Jack(s) (we always called them Cracker Jacks...) sitting on the shelf for the bargain price of 99cents. I asked Reed if he'd ever had Cracker Jack and he said no. Hmmm, some mother I am letting the kid get to almost eight years old without letting him experience Cracker Jack. In my defense, he has had caramel popcorn before, just not Cracker Jack specifically.
So, since at that moment in time, it seemed imperative that he have this right of passage, I threw the three pack in the cart. Besides, there's a prize inside!
When we got home, we tore into the package and found the much anticipated prize. (and our caramel covered popcorn and peanuts too, but it's all about the prize sometimes...)
I have been trying to remember. Were all the prizes paper things or did we occasionally get a plastic prize? I thought we had rings and such, but maybe my memory is cloudy on that one. Maybe my memory is clouded by the fact that a local department store back home always had a Cracker Jack sale on Black Friday. One year, my friend's mom tore open her Cracker Jack box and found a diamond ring hidden inside! Much to my dismay, I never found anything other than a 15% coupon in my Black Friday Cracker Jack boxes. Maybe that's why to this day I mostly boycott Black Friday sales. I felt jipped when I didn't get a diamond ring. Heck, I would have been happy with a necklace. *shrug* Maybe McRae's and Black Friday ruined Cracker Jack for me. Maybe that's why my children had never experienced them before now.
Maybe... Wait, where was I? Oh, Sunday afternoon of this week and our current treasure awaiting us from the inside of the Cracker Jack box. Our current paper prize. I do remember that whatever paper prize it was, it was always something "nifty" like............ Are you ready? Wait for it...
.
.
.
.
.
. Ready yet?
.
.
.
.
.
. It
.
.
.
.
.
. was a....
.
.
.
.
. pencil topper!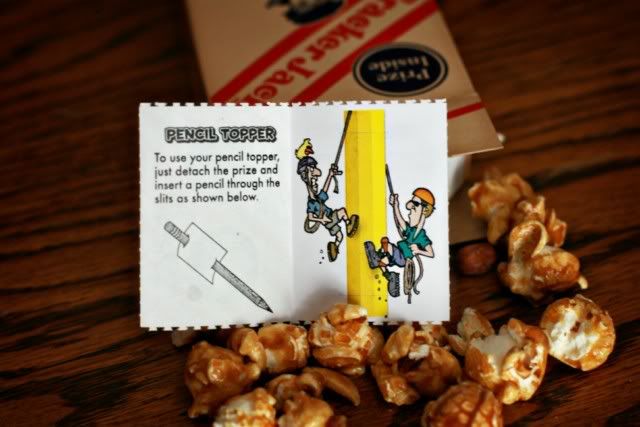 Yay! Just what we've always wanted! *
insert sarcasm and try not to think of diamond rings here
.* Hey, I suppose pencils need a little bling every now and then too.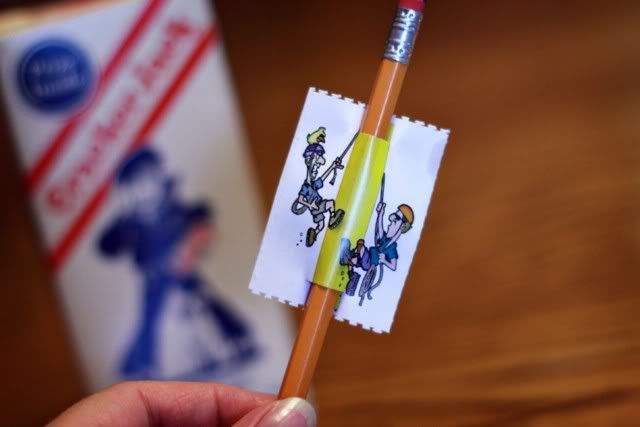 When the response from the prize wears off and you munch on the sweet caramel popcorn and look for the peanuts settled in the bottom of the box, you realize it's not just about the prize. It's about the fun of a tasty treat and for us older folks, the fun of the memory.
Because, really, it: