This is so yummy! The ingredient list is sinful, but, it's so good. I have adored this recipe since the first time I had it, but had never made one for myself. I made one recently to take to a company picnic. Sharing it with others was the only way I could justify such a recipe. Goodness knows my waistline doesn't need this cake sitting around on my kitchen counter for any length of time. :)
I always call it Miss Wanda's Pound Cake because she seems to always have one when we visit her house. I was glad she decided to make one when we were there visiting during our trip to AL a few weeks ago. :)
The recipe:
1 1/2 cups (3 sticks butter, softened)
1 package (8 oz) cream cheese at room temperature
3 cups sugar
6 eggs
1 1/2 teaspoons vanilla flavoring
3 cups sifted all purpose flour (I used self rising and skipped the salt)
1/4 teaspoon salt
powdered sugar

Preheat oven to 350F. Grease and flour a 10 inch or bundt pan. Beat butter and cream cheese until well blended. Add sugar and cream until light and fluffy. Add eggs one at a time beating well after each addition. Blend in vanilla flavoring. Sift together flour and salt; blend into creamed mixture. Spoon batter into prepared pan. Bake 1 hour 10 minutes or until a toothpick inserted in center comes out clean. Cool in pan for five minutes turn out onto wire rack and cool completely.
This was almost too much for my cake pan, but it was just right really. Maybe the AP flour would have done better in that bundt pan, but I don't keep it on hand most of the time.
Isn't it pretty? :D
I was scare of turning it out of the pan because I was afraid it was going to stick. It came out perfectly though! Yay!
Sprinkle with a little powdered sugar and then you're done!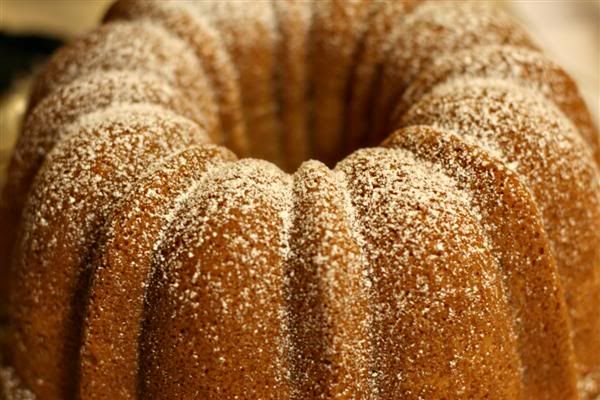 *Story of the pan is coming soon. It's a good story! That baby was my best birthday present this year!*