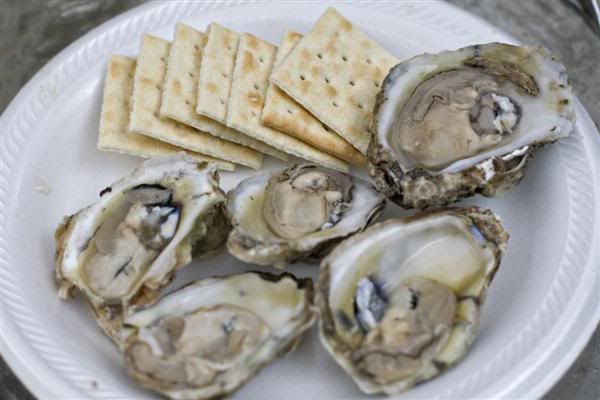 Gary LOVES, I mean LURVES!!! oysters on the half shell. I swear I think he could live on them and saltines alone. It's not that he gets them often here in the middle of America. The only oysters that are abundant here are Rocky Mountain oysters and well, we're just not going there. *shiver*
When we were in AL last week, we had to eat at Pop's Oyster Bar the first night. I chose a Po Boy sandwich. Are Po boys only available in the south? Does any other part of the country call sandwiches Po boys? Hmmph, I hadn't ever thought about that... Anyway, he got his first dose of GULF oysters on the half shell. And he'll tell you, they have to be Gulf oysters to be good. Sorry to you NW Pacific girls, those Pacific oysters just don't cut it in his book. LOL I tried one or two that night. They aren't bad if you put enough hot cocktail sauce on them.
We went a few nights later for his second dose. I opted for crab cakes that night. I sampled a few more of his platter. More hot cocktail sauce and the salty cracker. The sweet tea was the kicker though!
The THIRD time we went to Pop's, Gary just bought a thirty pound bag of oysters with the intention to shuck them himself and share with the guy whose house we were staying in during our trip.
So, they sat around the pool with screwdrivers and other tools in hand shucking the oysters and asking for more crackers and sauce.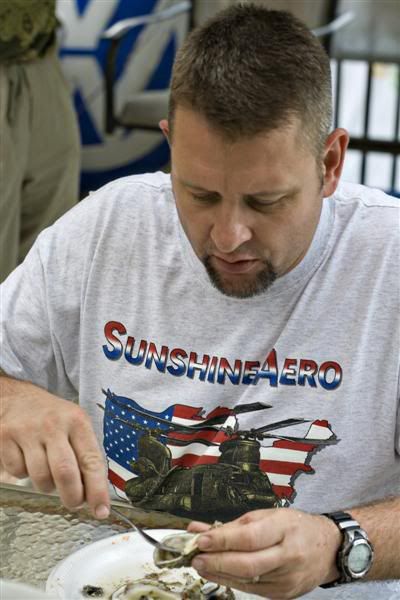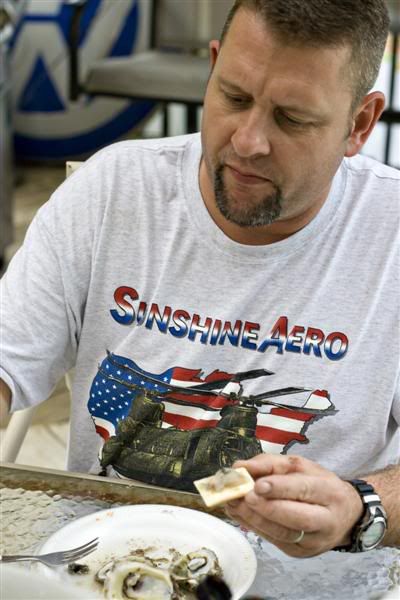 They worked on shucking and eating until they were stuffed and the bucket of shells was full.
He was a happy camper and had had his fill of oysters on the half shell until next time we're close to the Gulf. Who knows when that will be.
Oh, and he shared with me that night too. He was even nice enough to shuck some for me and not make me do it myself. That first photo is of my share before the sauce was added. Who'd have thought I'd actually like them too?!?!