R and I have been working our way through a unit study of dinosaurs. So far, we've had fun studying and learning various things. We have a great book that talks about dinosaurs from a Biblical point of view. It's been interesting learning that the ark Noah built was actually large enough to house dinosaurs. We read that this is true because dinosaurs aren't actually as big as they are often portrayed in other books and movies. Very interesting. :)
Every day he has asked me if it's time to "mine for dinosaurs" and everyday this week (and last) I've told him not yet. Today, I finally gave in and let him dig into his dinosaur egg. It was only after he got started that I remembered I should have taken a photo of the beginning piece. It was a sandy egg that he was to chip away at until he unveiled the dino skeleton inside. A fossil excavation.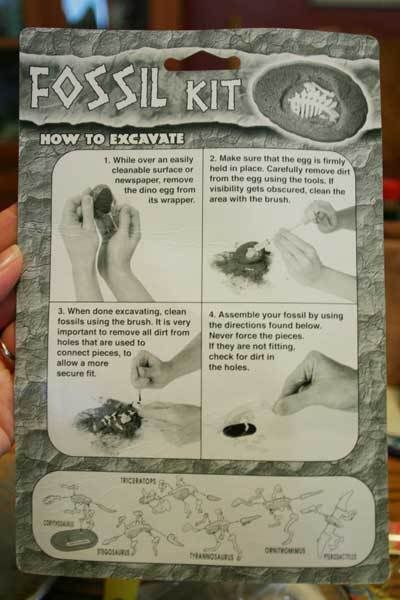 We couldn't leave D out of the fun and distraction from paper and pencil work, so he had his own fossil to excavate as well.
They don't always go about things the normal way. The chipping away of the sand with the wooden hammer and chisel just wasn't fast enough. So, in came the butter knives. No fingers or dinosaurs were harmed in this process. ;)
R's excavating resulted in the find of pieces he put together to form a Pterodactylus.
And D's formed a Ornithomimus.
*Notice he resurrected the explorer hat for the occasion? LOL He's so funny!