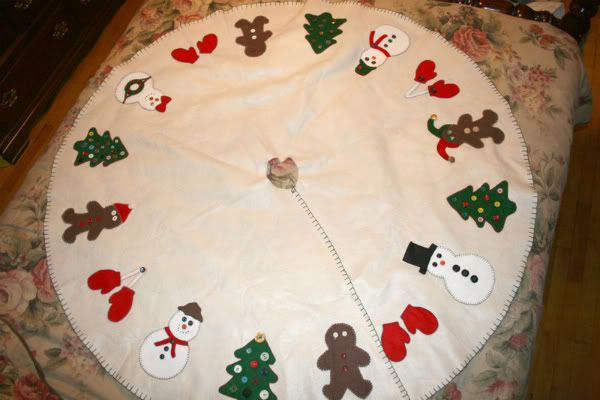 My sister recently asked me if I knew where she could buy kits to make felt ornaments. My immediate response was, "Why do you need a kit?" When God handed out the crafty gene in our family, I took more than my fair share apparently because well, to put it lightly, she doesn't have much of a crafty bone in her body. (sorry, Tam if you ever read this - luv ya, really I do.) Then I told her to look at places like
Oriental Trading Company
or
Family Fun
since she was planning to do this with her daughter. Later in the day, she asked what those websites were again. I emailed her back and said do a google search. Heck, I just did a google search and sent her some of the results.
In those results, I had found a blog with the CUTEST felt ornaments. I have entertained myself by scrolling back through this girl's previous blog posts and oohing and aaahing over her cute felt ornaments.
Bugs and Fishes
She sells them in a local gift shop and possibly online?.
How cute are these little:
Birds
and these
Reindeer
and these
Other Birds
and then there are these
Christmas Pudding Ornaments
and these
Ornaments
and her post with a photo of a variety of
Ornaments
I'm sorry, but who needs a kit when you can find all these cute ideas on the internet? I had no intentions of making any sort of ornaments for our tree this year, but after looking at these and others online, I'm thinking we might have a Felt Fun Day and just sew up some of these. R would be all for it, he's crafty and interested in that sort of thing like his mother. ;) D would go along with it just because.
Oh and I forgot to mention my tree skirt that some of you may have seen before. It's the photo at the top. I made it eight years ago and we still love it every December when we get it out to wrap around the base of the tree. So, felt ornaments would fit the theme there. :)
Here is a close up of one section of the skirt: