Does anyone else feel really overwhelmed listening to the news and seeing all these political commercials that are so prevalent these days? Some of the things that have been in the news recently could cause you to lose a lot of faith in our society and really question where our country is going and just how far it will go in any given direction.
Sometimes, I fall into a rut and think, "Man, what are we, Americans, doing anyway? How did we get here?" And during those times, it's great to be slapped back into focus. America will be fine. We will be ok. Life will go on and we'll still be proud to live in one of the greatest countries on earth - no matter what.
I had one of those "slapped back into focus" moments today. The boys were participating in a ceremony down at the President's homeplace - a wreath laying ceremony commemorating his birthday that is next week. They had ridden down with Mr. John and I met them there a little later in time for the procession. I pulled into the parking lot and this is the first site I saw. At first, my heart skipped a beat. It was one of those moments like listening to the Star Spangled Banner and getting goosebumps all over. I was awed, humbled and reminded that America is a great place. We are a very patriotic people as we should be!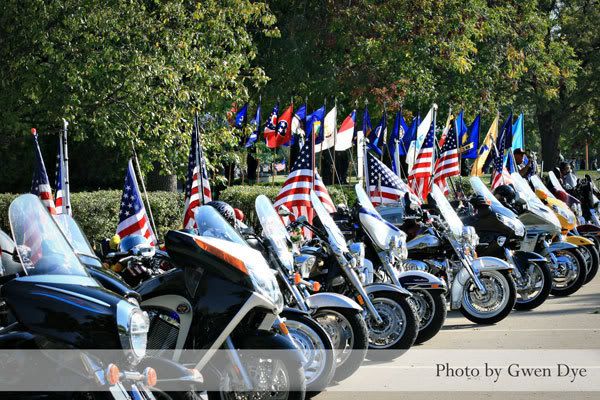 *The motorcycles belonged to various veterans who were there for the ceremony as part of their VFW or American Legion groups.*