The boys and I took off for a few days with my parents for a whirlwind road trip to Colorado earlier this week. Whirlwind - driving mostly, but some sightseeing along the way. I look forward to going back to Colorado and seeing more of that beautiful state someday soon!
First stop was the Colorado Springs area. We saw
Garden of the Gods
on the first day, and then early Tuesday morning, we visited
Seven Falls
You can go up the mountain elevator (blurry photo :( ) to a viewing point above. The boys thought it was very cool to go inside the mountain and up the elevator.
View from above.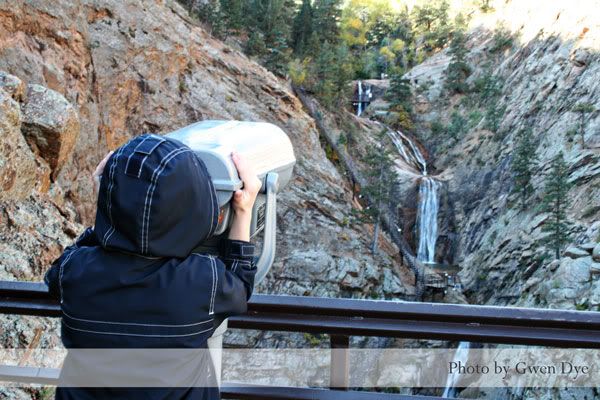 Notice the steps along the side of the falls? Once you went back down, you could then complete a full aerobic workout for the day, or for the week, heck, for the entire MONTH! by walking up the stairs to the top of the falls. I don't want to see a stair stepper for quite some time after tackling those steps!
Dad was the smartest one of the bunch by staying at the bottom and opting out of stair climbing. DS2 kept wanting to go back, he got a little scared of the height, but he was a trooper and went on to the top. We had to catch up with his brother who completely left us!
The journey back down the steps was much easier on my heart. ;)
The next morning, when I woke in the hotel room, climbed out of bed and stood up, my calves SCREAMED at me. They are still screaming to a degree, but they are getting quieter as the days pass.
I took a lot more photos... waaaayyyy too many photos of the waterfalls, but I was having fun. I'll share some later on without overloading you with waterfalls pics all in one day. I'll also share more photos of other points of our trip later on too. It'll keep me blogging. ;)
Don't forget to leave a comment if you drop by! I love comments!