When we moved here two years ago, there were two trees inside the fence in the backyard. Both looked like they'd seen better days. DH eventually pushed one over, it was so rotten and dead. The other looked to me to be a Bradford pear. I encouraged him to cut it because it had been broken at some point and trimmed to an ugly shape. But, he wouldn't do it so I haven't paid much more attention to that tree. A week or so ago, Devon came in the house bringing me a pear. I asked him where on earth he got that and he said from the tree in the backyard. My stupid question of that day was, "What tree in the backyard?"
(There's only one back there. *rolleyes*)
So, it was then that I realized that is NOT a Bradford pear, but a regular pear. It didn't bear pears last year, so I had no idea.
So, for the past few days, we've been enjoying fresh pears from THE tree in the backyard.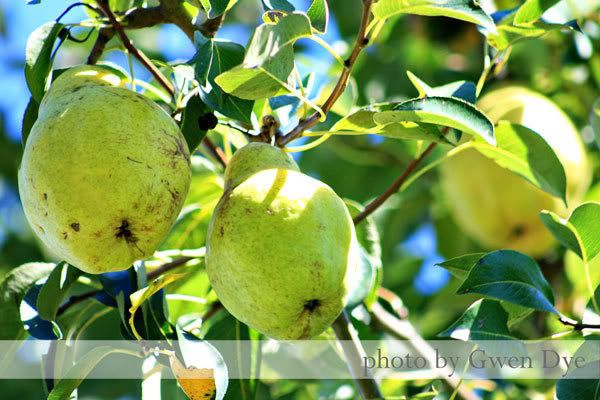 Look at the beautiful clear sky we have today! It's a perfect almost fall day!
And because the sun is so bright and beautiful, I decided to try a sun flare photo. :) Too bad there wasn't a pear to photograph on that side of the tree.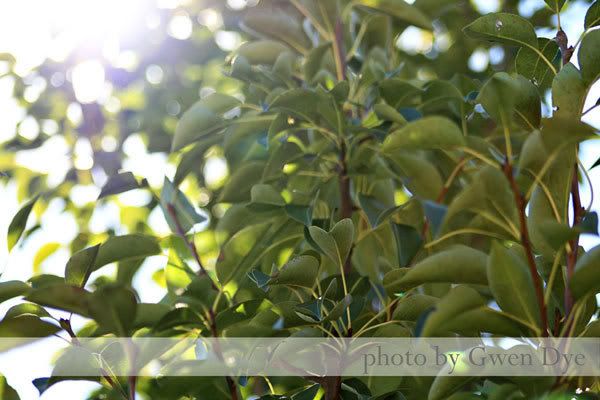 We, humans, aren't the only ones enjoying the pears. I ran over one yesterday and made a squashed pear salad for the honey bees.
Look at the bee in flight in this one.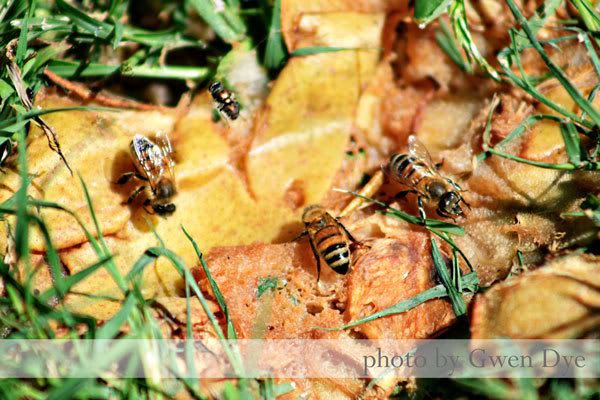 And on a totally different note, take a look at my dahlia that is blooming in the side flowerbed. It's almost neon yellow! The boys think it looks like one of those squishy balls. I agree!