and Kansas too. Before we moved here, we had so many people comment on the fact that Kansas is such a flat state. I was expecting that to be true, but have been completely surprised since living here. Maybe it's just our part of Kansas, but Kansas isn't all THAT flat. Now, if you go further south and further west, yes, you get to FLAT parts of Kansas. Around here, there are plenty of hills and valleys and as my dad would say, there are even a few gullies here and there.
On Friday, we took a field trip that led us to
Coronado Heights
. It was rather neat to go over there. We'd studied in history about Coronado, the Spanish explorer, who was misled by the Indians of Mexico when they told him about the Cities of Gold. I think it was just a lie to get him and his men out of their community. But, alas, he took off on a journey to find the Cities of Gold. He went through what is now Arizona and discovered the Grand Canyon, on to New Mexico and eventually ended up in Kansas. It is said that Coronado Heights is the point where he gave up in his search of gold and turned back south. With a view like this, I'm sure he saw far enough north that he still didn't see the Cities of Gold so decided to just call it quits and return.
Back to Kansas being flat... or not so flat. The beauty of any of it is the fact that no matter where you are, you have an amazing viewpoint of being able to see for miles and miles in any direction you look. Here are a few pictures I took on Friday to show you some views of Kansas - both the flat views and the hills in the distance. :)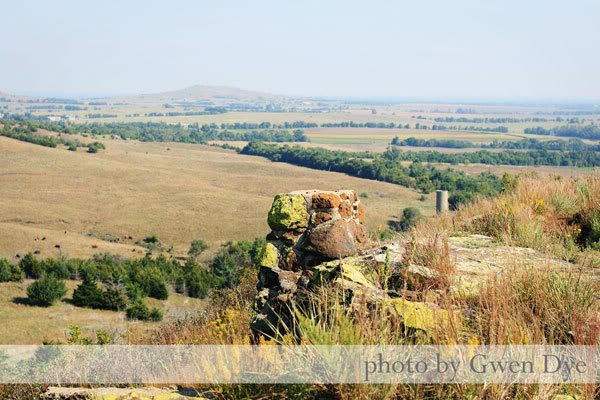 Hi cows.... *waves* let me zoom in to see if I can see you better! Wow, you're really far away!
If we were going to stay in Kansas, I'd want to move out in the middle of nowhere to farm property like this. Look at all the room to roam.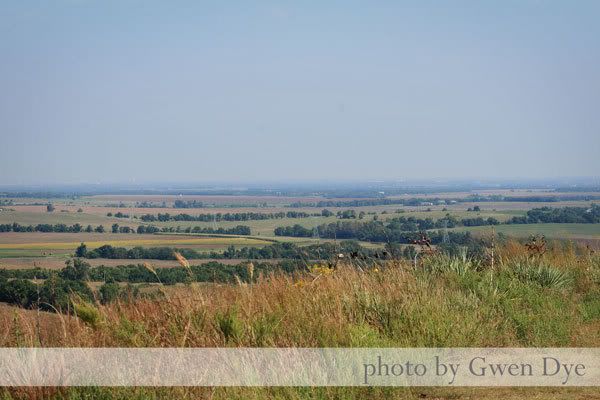 The area on top of the hill was set up as part of Pres. Roosevelt's Work Phase across the nation in the thirties when so many parks were constructed. There are picnic areas and other things on the hill. Maybe one day, we'll travel back down there and spend some more time, maybe even taking a picnic lunch so we can eat on the side of this huge hill. ;)