We went to the rodeo last night. Lots of fun, some edge of your seat sort of stuff - like when the guy was HURLED from the bull and he just lay there not moving for - EVER - freaking everyone in the crowd out. Finally, he was able to get up and walk away, but it was scary in the meantime.
I had mixed emotions about my photos I was able to capture. I really wish I could have gotten more of the action shots, but I couldn't get passed a big blur in so many of them - the bull riding - things were just too fast and it was dark and I was in the stands and lots of excuses.
But, I did get these and they tell a great story. I think I watched most of the rodeo through the viewfinder of my camera anyway. They could be cropped a bit more, but I'm lazy.
It was steer wrestling. The cowboy jumps from his horse to not rope, but wrestle the steer to the ground? Some PITA people say it's cruelty to animals, but Wikipedia says there's danger in it for the cowboys too. Here's the proof - pictures really are worth a thousand words. ;)
He's all ready, waiting in the gate for the steer to be let loose from the gate.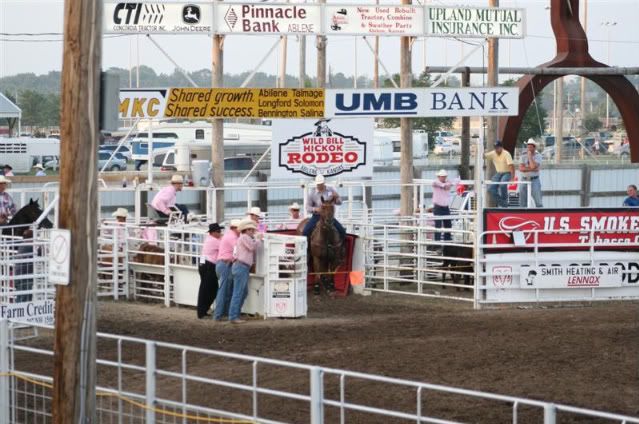 There they go!
Moving in for the catch and wrestle. This is sort of like sky diving - why jump off a perfectly good horse to tackle a steer with horns like that? It's like why jump out of a perfectly good airplane? LOL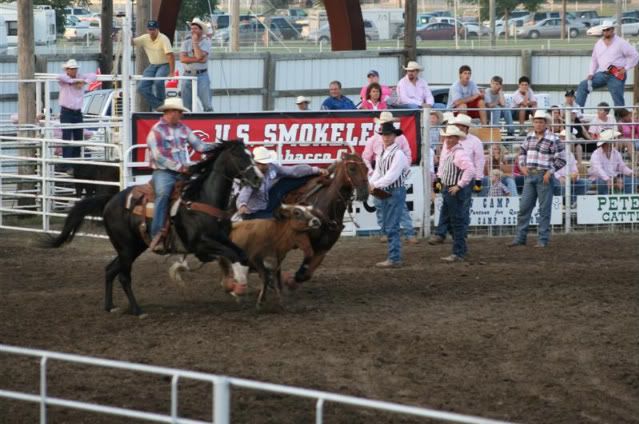 Atta boy, cowboy, get him down!
He's down! Good job! But look at Cowboy's hand on his mouth and steer's expression as if to say, "Well, sorry Buddy, but you deserved what you got."
And what exactly did he get?
Well, he got his tooth knocked out! The steer's horn hit him just in the right spot and knocked his tooth out of his mouth!
Lots of guys came to help look, but they never found it! The announcer said he probably wouldn't have wanted to put it back in his mouth anyway considering that wasn't all dirt in that arena. Poor guy. He got a good score for his time but it cost him a tooth.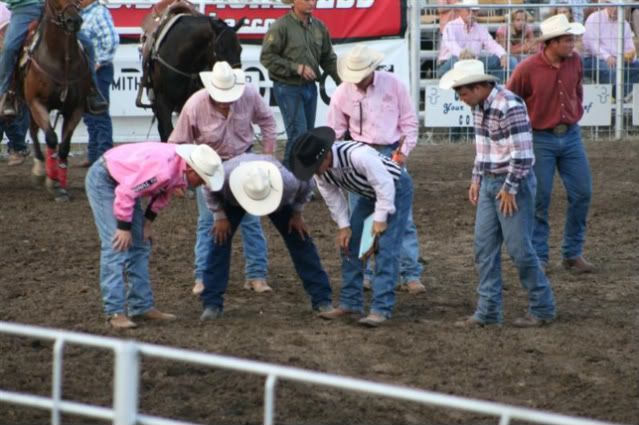 And the cowboys were wearing Pink because it was Tough Enough to Wear Pink in support of Breast Cancer Awareness Night at the Rodeo.